This post may contain affiliate links, which means that we make a small commission off items you purchase at no additional cost to you. Please refer to our Privacy Policy for more information on how we may use your information. As an Amazon Associate we earn from qualifying purchases at no additional cost to you. We appreciate your support!
I've been enviously eyeing gallery walls for years now, longing for one day to have a home with a wall that will allow me to put one together. While I wait, I've put together some of my favorite gallery walls and brief thoughts on each below to serve as inspiration for those in the planning (or wishing) stages.
Clean and Simple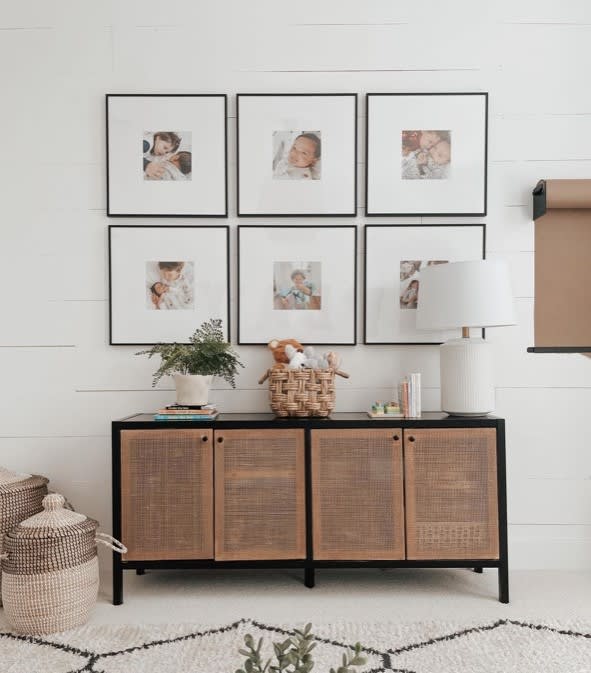 credit: @linseywoods.home
Love how light and bright this gallery is. Everything in this image plays together nicely. No one item takes center stage. It's adaptable for any style and budget. I can see this working well without a furniture piece under it and adding a third row. If the space is narrower, doing a 2x2 grid with a smaller console would work beautifully as well.
Unusual Location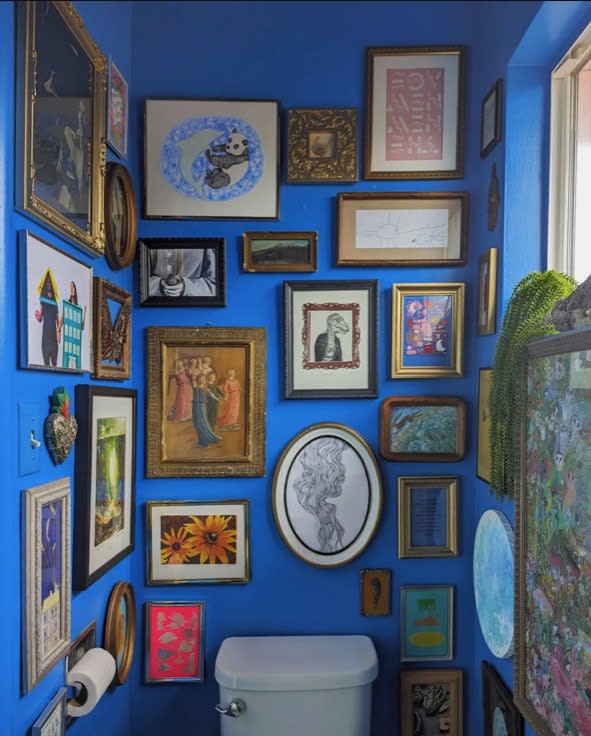 credit: @maxmakes
A typical powder room has become a fun and funky personality display. The use of color here- in both the wall paint and the coordination of colors in the gallery is exceptional. Some frames appear crooked and the spacing between each frame appears to be done at random, adding to the uniqueness of this look.
Think outside the box…or frame!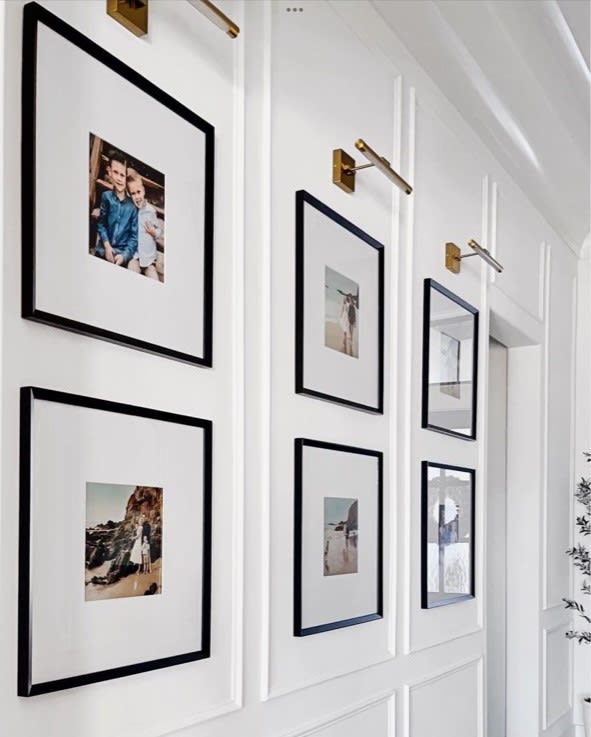 credit: @the_broadmoor_house
So much to talk about with this gallery wall! The bright white wall color along with the wide white mat of each piece contrasted with simple black frames. The beauty of the gallery on a paneled wall. The light fixtures. Stunning!
If you have a wall in your home with trim detail, don't be afraid to use it as a gallery wall. Size your frames to fit well within the trim like the below-at least 1.5" on each side of the frame to not overwhelm the space and have the most aesthetically pleasing result. I also wouldn't hesitate to add a trim detail like the below for the purpose of creating a unique gallery wall.
If placing frames over shiplap or a similar type of linear wall treatment, I would cut pieces of paper the size of each frame and use painter's tape to lay out the gallery first (this is a great tip regardless of having wall trim or not!) to make sure that you don't have a piece of art placed on the trim in a way that makes the gallery look unbalanced.
The light fixture selection here is flawless. If you are going to go for this look, there are a variety of fixtures you can use. Visual Comfort is always our go to for statement lighting, and you can find their selection of picture lighting here.
If Amazon is more your vibe, check out our picture lighting list with a variety of finishes, styles, and price points.
I would recommend having the width of the fixture be more narrow than the width of your frame. I would also recommend your fixtures be on a separate switch from any other lighting in the room to ensure flexibility in how the gallery wall can be displayed. If you can put the light fixtures on a dimmer switch, that would be an added bonus. This dimmer switch is our go to reliable brand, cost effective and easy to install yourself. Just make sure that the fixture you are installing it for is compatible with a dimmer.
Utilize shelving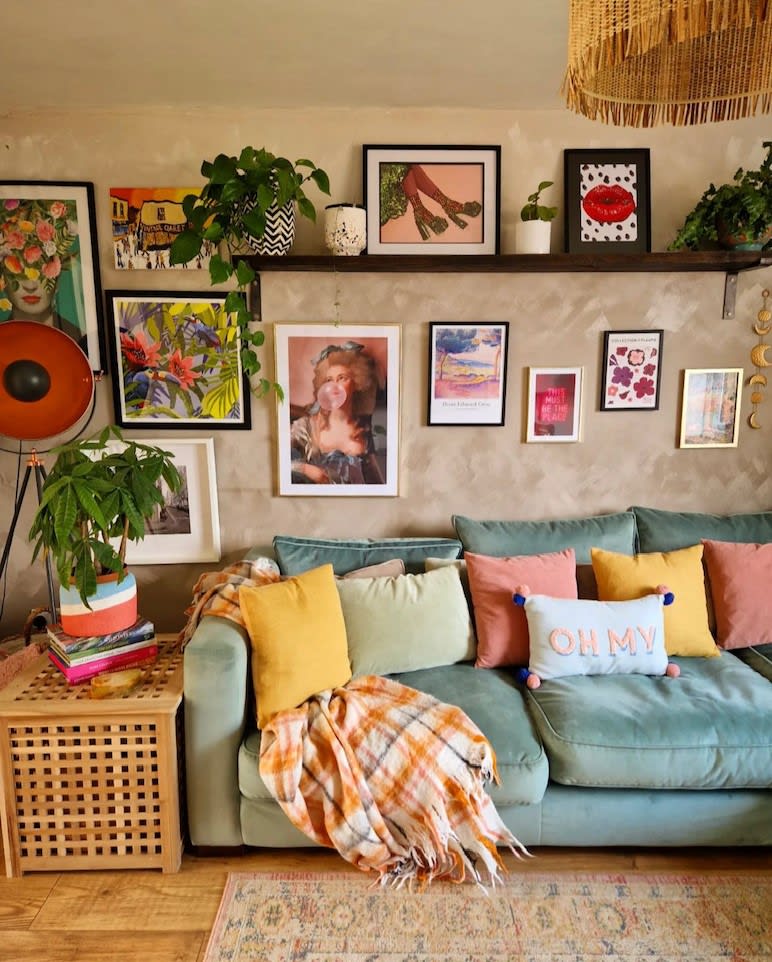 credit: @_theflamingo_lounge
This space just looks like somewhere I want to hang out on a Sunday afternoon with a drink and a book. The shelf is such a seamless addition to the gallery wall that contributes to the overall cozy and casual vibe. The pots are placed on the shelf without a particular pattern or without paying mind to spacing and it works really well.
Notice how there are larger art pieces towards the left and smaller on the right. This is a unique look that I would be open to trying out for a casual and creative space.
Simplicity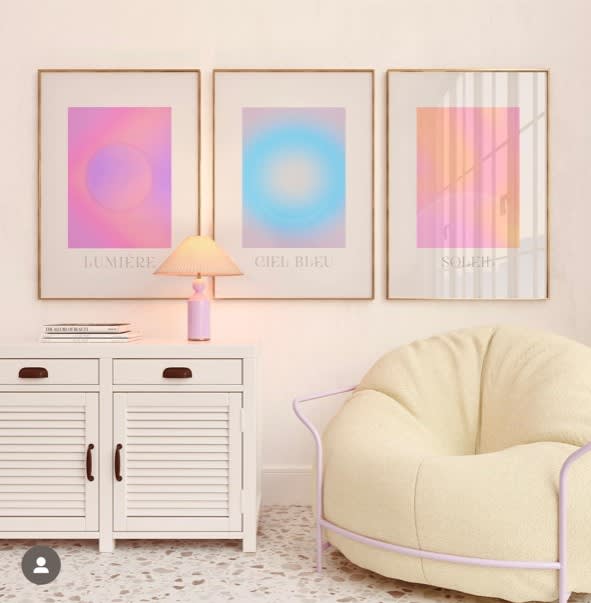 credit: @tigerandtea
This space speaks to me. So simple and alluring. The use of color is intentional against the otherwise neutral and light decor and in my opinion, what makes this space so stunning. Simple gold frames are a timeless and elegant choice. The only change I would make in this space would be a switch to museum glass to try to tone down the glare you see on the far right piece of art.
Dress Up a Staircase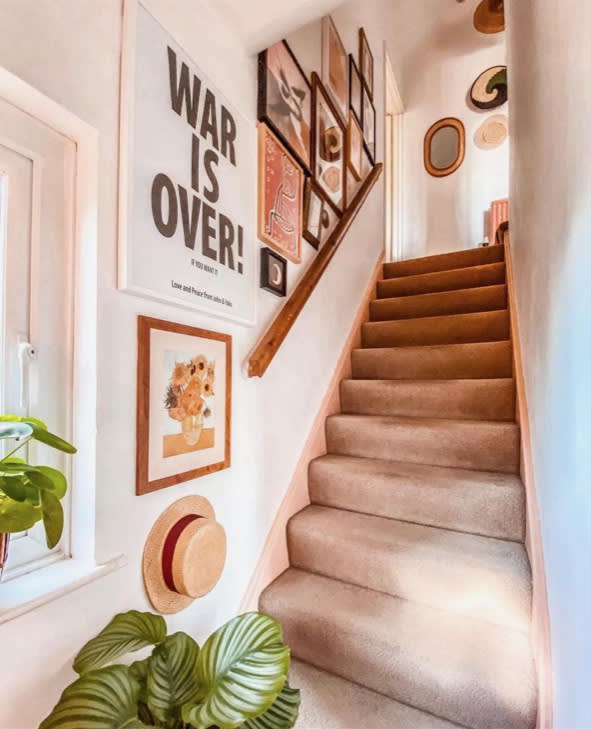 credit: @iamhayleystuart
Take a close look at this staircase. Simple, narrow, with well loved carpet. There's nothing fancy or expensive about this space. Despite that, it's fun and appealing. I look at this photo and feel I want to meet the owner of this home. This is somewhere I want to hang out. It feels like a happy home.
This is also the type of gallery wall where improvisation would not be a smart move. Testing out art spacing and placement with paper and painters tape is definitely the way to go with this style. Mix and match frame sizes to help fill the span of the stairs. You could go with tight spacing like this image or expand if you don't have enough pieces. I would not recommend utilizing only part of the stair wall. It's all or nothing!
In my opinion, this gallery wall would not be as impactful without three details:
First, the hat. It doesn't traditionally belong on a gallery wall, but what a fun quirky addition! It injects so much personality. Second, the use of greenery here is gorgeous and provides contrast to the colors utilized in the rest of the decor. Third, the art at the top of the stairs brings consistency to the style of the space and draws the eye to continue taking in the beauty while ascending the stairs.
If you utilize any of these tips for your own gallery wall, please share it with us. We would love to see!