This post may contain affiliate links, which means that we make a small commission off items you purchase at no additional cost to you. Please refer to our Privacy Policy for more information on how we may use your information. As an Amazon Associate we earn from qualifying purchases at no additional cost to you. We appreciate your support!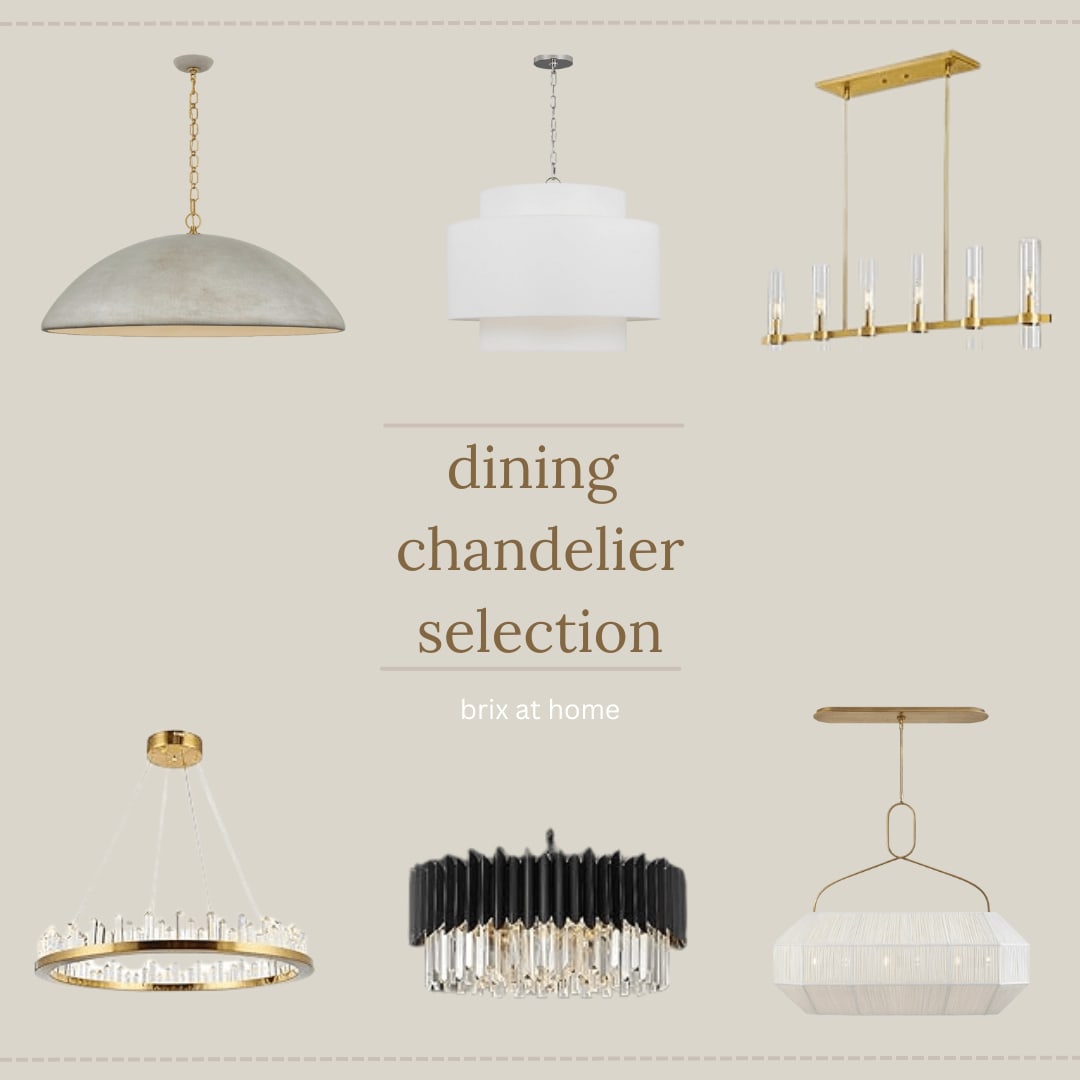 Have you ever walked into someone's home and said WOW, and it wasn't in a good way? Well then you probably weren't in our dining room in 2018! Light fixture selection can make or break the overall aesthetic of a home. Let's walk through how to make sure you get the sizing right for your dining room.
Generally, the first factor to consider is the size of your table. Ideally, the chandelier should be proportionate to the table, complementing its dimensions without overpowering it. A general guideline is to choose a chandelier that has a diameter roughly half to three quarters of the table width. For example, a table that is 48 inches wide would require a chandelier with a diameter of approximately 24-36 inches. We've weeded through the reviews and compiled several Amazon options at this link that cover a variety of sizes, styles, and finishes.
Also consider the shape of your table when selecting fixtures. Do you have a large rectangular table with seating for twelve? Your space may be best set up for two large pendants or a linear chandelier. I've been dreaming of using this linear chandelier in an upcoming house. This more budget friendly option works beautifully in modern, transitional, or farmhouse style homes and comes in a variety of finishes. Take note that a linear chandelier would not work with a round table! Using a double pendant in a larger space has become increasingly popular in recent years. Two options I've selected for upcoming homes can be found here for a pick under $800 and here for a splurge choice for larger budgets. Both of these choices also work beautifully for a breakfast room fixture. If Amazon is your preferred shopping destination, I've pulled together several linear chandelier and large pendant options here with a variety of sizes and styles- some under $100.
The ceiling height in your dining room also influences chandelier sizing. The general rule of thumb is to leave approximately 30 to 34 inches of space between the bottom of the chandelier and the tabletop. This ensures that the chandelier is properly positioned and provides adequate illumination without obstructing sightlines. If you have higher ceilings, you may need a larger chandelier to maintain the visual balance of the space. Make sure to take a look at the specs of the fixtures you are considering. If you are shopping online, most vendors will have a Specification Sheet or information in the details that shows the maximum hanging length. If your ceiling is 10 feet or higher, additional rodding or chain may be necessary to make sure your fixture lands at the right height.
In addition to aesthetics, consider the functionality of the chandelier and how you use the space in your day-to-day life. Ensure that the chandelier provides sufficient light for the dining area. Choose a chandelier with multiple bulbs or adjustable lighting options, such as dimmers, to allow for flexibility in creating the desired ambiance. Keep in mind that softer lighting can create a more intimate dining experience, while brighter lighting is suitable for tasks like reading or playing games at the table.
You can always test before installing if you're unsure of how a fixture will feel in the room. We recommend using a large piece of paper or cardboard, cut to the dimensions of the chandelier you're considering hung temporarily in the space to visualize how the sizing will look and ensure it's the right fit before making a purchase.
Selecting the perfect chandelier for your dining room is a combination of science and feel, with a mix of your personal touch. When shopping online for fixtures, our go-to's are Build and Visual Comfort. If shopping in Houston, we highly recommend visiting M&M Lighting or a Ferguson showroom for an amazing customer service experience.