This post may contain affiliate links, which means that we make a small commission off items you purchase at no additional cost to you. Please refer to our Privacy Policy for more information on how we may use your information. As an Amazon Associate we earn from qualifying purchases at no additional cost to you. We appreciate your support!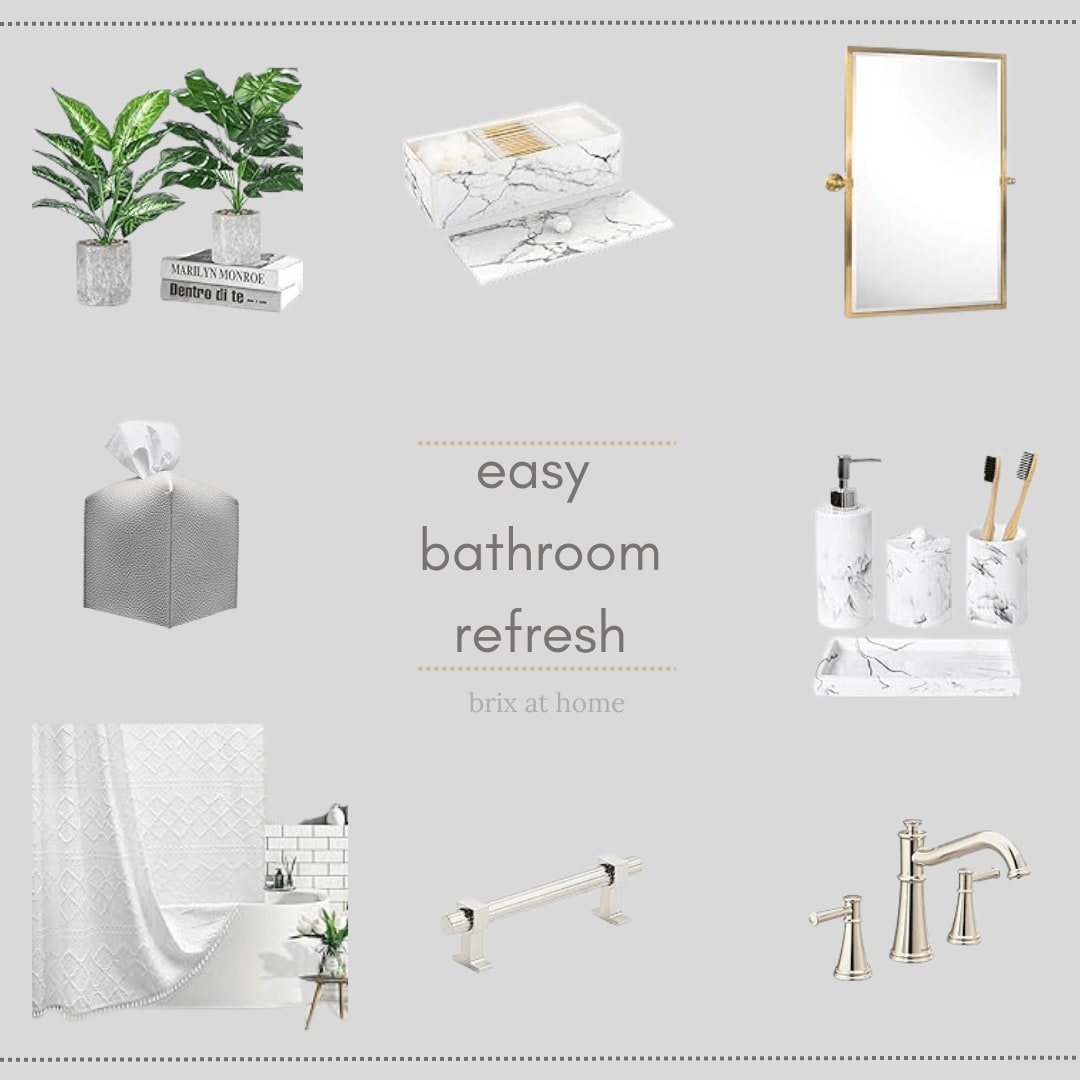 Design trends have been moving at the speed of light and it can feel challenging to keep your home on trend without breaking the bank or spending tons of time. Bathrooms can be really simple to update in a cost and time effective manner. It doesn't take much to make the space feel completely new!
Fresh paint can make a world of difference as a starting point. If the bathroom you are working on is a powder room, we love a moody medium to dark hue. You can see our top moody paint color picks here.
For your primary and secondary bathrooms, light tones are often best to create a serene atmosphere and open up the space. Stick with soft, neutral light grays or elegant whites. Leave the color for your accessories like towels, shower curtains, or artwork if color is your vibe. Bathroom lighting is so unpredictable, and light grays and off whites can take on unexpected undertones. Read more here on choosing the perfect paint color and our expert hack for ensuring no surprise undertones.
Outdated hardware can drastically age a bathroom. If you are working on a tight budget or are not confident in your DIY faucet changing skills, even just swapping out the cabinet hardware and accessories can give enough of an update to make a space feel new. Trends are leaning towards mixing and matching finishes, so it is more than appropriate and design forward to have two or three different finishes in the same bathroom as long as you keep the style consistent. We've been loving polished nickel plumbing fixtures and cabinet hardware accompanying matte black door hardware and accessories with gold light fixtures. Such an elegant and modern look. This brand of cabinet hardware always has great dupes for the trendy, pricier brands and usually has multi-packs available at a discount. Our favorite hardware swap? The toilet handle! If your toilet handle is white or has a style that is inconsistent with the rest of your bathroom's vibe, it's so easy to change it out.
If you are up for the task of changing out your own faucets, we found this video helpful for a sink change out and this video helpful for a shower trim swap.
Replacing a flat, basic mirror with a unique and eye-catching design that suits your personal style can have major impact. Depending on the size of your vanity, sconce lighting on either side of the mirror or above finishes the look. We recommend installing sconces on either side of the mirror if you have a minimum of 12" on either side, otherwise install above. We also love using single light sconces that are traditionally installed alongside a mirror above instead for a unique look. We recommend leaving at least 2" between your splash and bottom of mirror, depending on mirror and ceiling height. If you are placing wall sconces on either side of the mirror, the height should be centered or slightly above the center line of the mirror. Choose a mirror no wider than your sink base cabinet to keep the mirror from overwhelming the space.
While it may not be the most visible item to refresh, changing out your showerhead can certainly be a much appreciated update for the user. High-pressure rainfall showerheads or handheld options can provide a luxurious spa-like experience. Or check out the viral Jolie shower head that has a built-in filter. We purchased one in the Spring and it was so simple to install and has honestly made a noticeable difference in our skin and hair. Additionally, a new shower curtain or a sleek glass door can instantly update the look of your bathroom and add resale value.
If you have the space, we love adding plants to a bathroom for the look and also for the air purifying benefits. We recommend low-maintenance options like spider plants, pothos, or succulents that thrive in humid environments. You can place them on countertops, shelves, or hang them from the ceiling. If taking care of a plant stresses you out, there are some beautiful faux plant options perfect for small spaces. Consider adding some decorative or functional accessories like trays, apothecary jars, or woven baskets to organize and add a personal touch to the space. Tight on space? Work with functional decor pieces such as a new soap dispenser or toothbrush holder in a sleek design. Functional decor pieces can really change up the look for minimal cost.
We've pulled together our curated lists of Amazon items to get you from start to finish on your bathroom refresh here. Find everything from our tried and true reliable name brand plumbing fixtures, to mix and match mirrors and hardware, to beautiful neutral accessories under $10.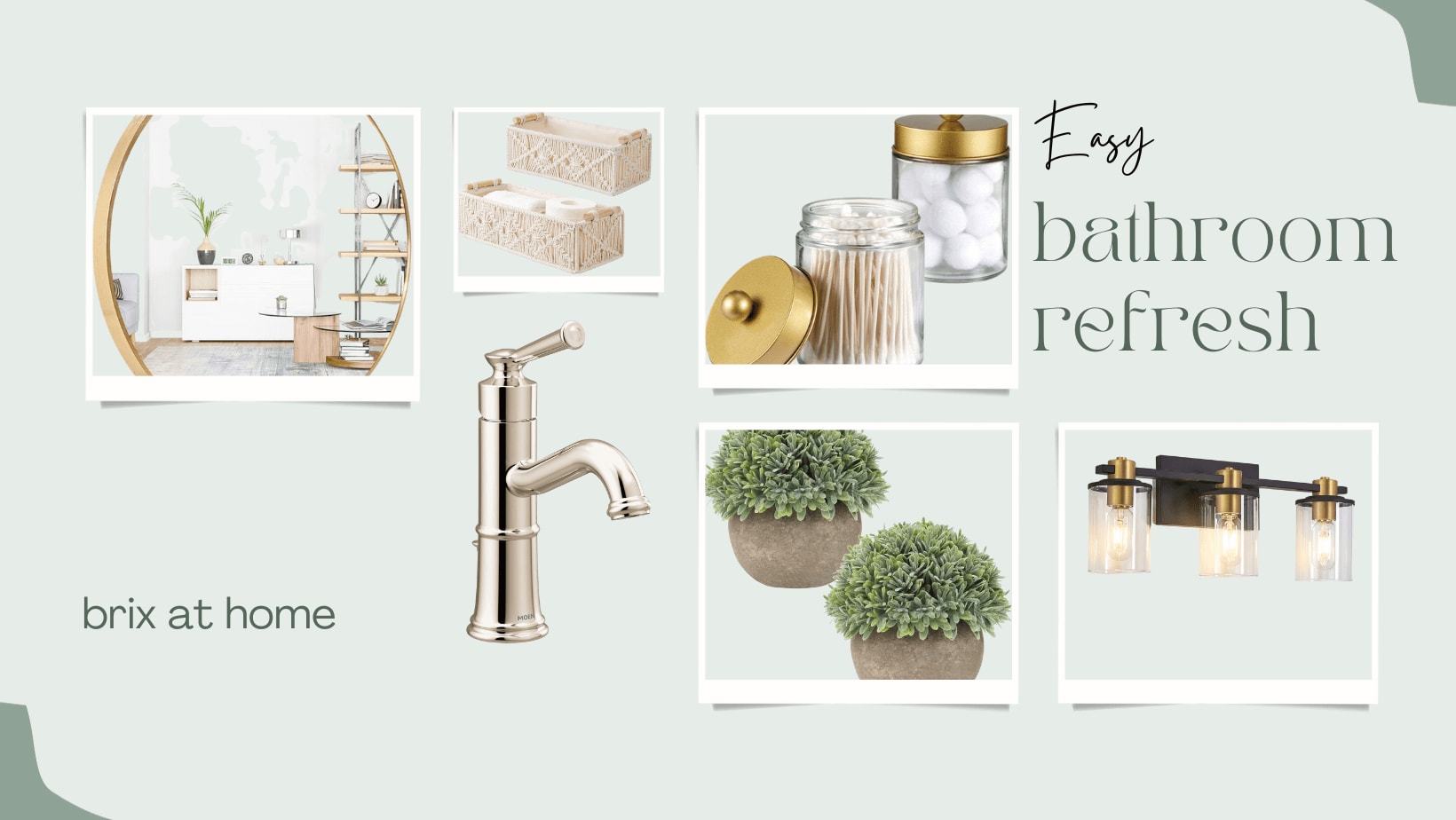 Updating a bathroom doesn't have to be a daunting task or a drain on your wallet. Take your time, plan your design, and have fun making your bathroom a beautiful and functional space!